MR MERCEDES : davantage de promotion
1) Une vidéo interview de Stephen King au sujet de MR MERCEDES
       >>> Lien vers l'interview
2) Brady, le tueur à la Mercedes présenté par les personnages emblématiques de Stephen King
      >>> Lien vers la présentation de MR MERCEDES par les personnages emblématiques de Stephen King
3) Notre avis sur MR MERCEDES (se trouve sur la page dédiée à MR MERCEDES)
      Voici un extrait, notre avis complet se trouvant sur la page dédiée à MR MERCEDES
4) THE BASEMENT : une expérience intéractive autour de MR MERCEDES 
    >>> le site internet officiel de Stephen King a mis en ligne "the basement", qui est une expérience intéractive autour de la cave de Brady qui est sont centre d'opérations
    >>> Un indice pour cette expérience intéractive se trouve sur la video
5) Quelques reviews américaines et britanniques :
'The best thriller of the year' – Daily Express
"With John Updike dead and Philip Roth retired, Stephen King might just be America's greatest living novelist." Express.co.uk
"Think of Mr. Mercedes as an AC/DC song: uncluttered, chugging with momentum, and a lot harder to pull off than it looks." Christian Science Monitor
"King has written a hot rod of a novel, perfect for a few summer days at the pool". Christian Science Monitor
"Good book? Hell, yes. Good Stephen King book? Absolutely." The Guardian
"In some novels, King expresses outright tenderness and it's evident here. That doesn't mean, though, that he's not good for scenes of brutal carnage." NY Daily News
"In "Mr. Mercedes" King displays a light touch, telling a story that could almost be characterized as sweet except of course for the sociopath on a bloody rampage. King will be King, and he's never less than scary. Who in their right mind would want him to be?"  NY Daily News
"Stephen King, master of horror, is a delight to read even if fright isn't your thing. He's such a consummate writer. "Mr. Mercedes," his newest release, does not disappoint – either as another journey behind the veil of terror, or as a tale well told. […] Stephen King, the consummate literary cat, however, makes no missteps. Fortunately for readers, he wins yet again." Press Herald
​"On one level, "Mr. Mercedes" is an expertly crafted example of the classic race-against-the-clock thriller. On another, it is a novel of depth and character enriched throughout by the grace notes King provides in such seemingly effortless profusion. It is a rich, resonant, exceptionally readable accomplishment by a man who can write in whatever genre he chooses. James M. Cain, who knew a thing or two about this sort of story, would probably have agreed." Washington Post
"King's work has almost always gotten lost in translation on the big screen, but his tense, propulsive, ultra-fast-paced climax here seems like it was written with the movie in mind. It's the exact opposite of that leisurely opening, and a fine study in contrasts, suggesting King can still work equally well in both modes when he puts his mind to it. Mr. Mercedes doesn't rank among his best; it's choppy, and at times perfunctory, and it lacks the sense of slow-building, looming dread that give his strongest books their power. But it's a major step up from his previous book, Doctor Sleep, and it's unusual in its dedication to surprising readers who by this time may think they know King like the back of their hands. Allen movies and Star Wars credits rarely come with this many wild change-ups in the mix." AV Club
"With an accidental gumshoe and a freaky serial killer, Stephen King's new novel Mr. Mercedes takes the old detective genre in an excellent, modern direction." USA Today
"Think of Mr. Mercedes as an AC/DC song: uncluttered, chugging with momentum, and a lot harder to pull off than it looks. Or sounds. […] King has written a hot rod of a novel, perfect for a few summer days at the pool. Mercedes-Benz commands drivers to demand "the best or nothing." In pop-fiction terms, that motto still applies to Stephen King, too. With apologies to AC/DC, the highway to hell never felt so fun." CS Monitor
"For the first half of the novel, King tickles our anxieties, his detective engaging in a classic cat-and-mouse game with the killer. But you can feel him wriggling against the hard-boiled tradition, shaking the hinges. Soon enough, in ways large and small, he rejects and replaces the genre's creakiest devices. Instead of another hard-drinking soulful detective, King presents a hero who lost interest in alcohol upon his retirement, and whose only addiction is daytime television. And while Marlowe (nearly always) abstains from women, and John D. MacDonald's Travis McGee or Walter Mosley's Easy Rawlins pursue them relentlessly, *Hodges' sexual interests are focused, monogamous and decidedly un-neurotic. But it's the larger genre deviations that make "Mr. Mercedes" feel so fresh. At their purest, hard-boiled novels are fatalistic, offering a Manichaean view of humanity. For King, however, dark humor extends beyond the investigator's standard one-*liners,  reflecting a larger worldview. […] "Mr. Mercedes" is a universe both ruled by a playful, occasionally cruel god and populated by characters all of whom have their reasons. One man can do only so much." New York Times, review by Megan Abbott, author
---

SOUTENEZ-NOUS ET OBTENEZ DES AVANTAGES EXCLUSIFS !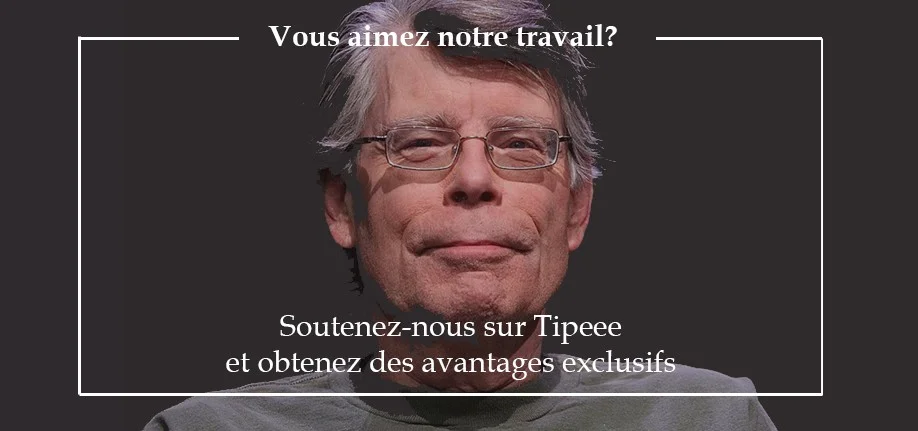 En vente dans notre boutique :
Découvrez notre boutique :
Notre livre : gratuit sur demande!