Stephen King est un lecteur vorace. Il le dit lui-même, un auteur doit faire constamment deux choses : lire et écrire. Il a déclaré lire environ 80 livres par an, en recommande régulièrement sur Twitter… mais quels sont ses livres préférés? Découvrez ci-dessous les livres préférés de Stephen King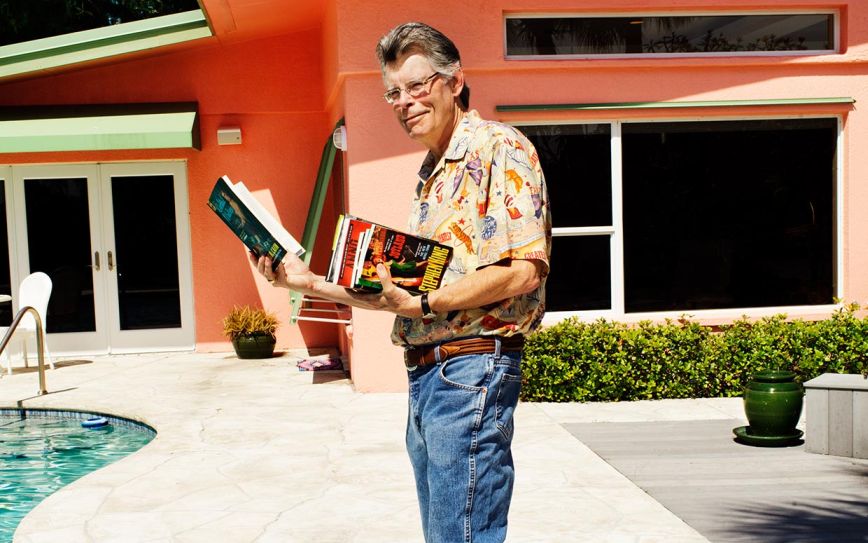 Stephen King a beau regarder beaucoup de film et de séries, il est avant tout un lecteur puisqu'il a grandit à une époque où sa famille était pauvre et où la télévision n'était absolument pas ce qu'elle est aujourd'hui.
Dans son livre "Ecritures", Stephen King le dit : "Si vous voulez être un romancier, vous devez faire avant tout deux choses : écrire beaucoup, et lire beaucoup".
Il va donc sans surprise que Stephen King est un lecteur vorace, lisant en moyenne 80 livres par an.
Âgé de 71 ans, Stephen King a donc d'ores et déjà lu un grand nombre de livres.
Mais quels livres recommende t'il?
Quels sont les livres préférés de Stephen King?
Que vous soyez curieux ou à la recherche de nouvelles lectures, nous vous proposons de découvrir les livres préférés de Stephen King
Le top 10 des livres préférés de Stephen King
La réponse des livres préférés dépend forcément du contexte, des dernières lectures, de la date, et de l'état d'esprit au moment de la question.
Stephen King a publié, plusieurs top 10 de ses livres préférés, et nous vous proposons de découvrir ci-dessous :
– Les 10 livres préférés de Stephen King
– Les 10 histoires et livres d'horreurs préférés de King
– Les 10 romans fantastiques ou d'horreur préférés
– Des livres recommandés par Stephen King et qui l'ont probablement influencés 
Les 10 livres préférés de Stephen King, publié en 2007 dans le livre "The Top Ten: Writers Pick Their Favourite Books"
1. The Golden Argosy, édité par Van H. Cartmell &Charles Grayson
2. Adventures of Huckleberry Finn, par Mark Twain
3. The Satanic Verses, par Salman Rushdie
4. McTeague, par Frank Norris
5. Lord of the Flies, par William Golding
6. Bleak House, par Charles Dickens
7. 1984, par George Orwell
8. The Raj Quartet, par Paul Scott
9. Light in August, par William Faulkner
10. Blood Meridian, par Cormac McCarthy
Les 10 histoires et livres d'horreur préférés de Stephen King, publié en 1983 dans "The Book of Lists #3"
1) Ghost Story, par Peter Straub
2) Dracula, par Bram Stoker
3) The Haunting, par Shirley Jackson
4) Dr Jekyll and Mr Hyde, par R.L. Stevenson
5) Burnt Offerings, par Robert Marasco
6) Casting the Runes, par M.R James
7) Two Bottles of Relish, par Lord Dunsany
8) The Great God Pan, par Arthur Machen
9) The Colour Out of Space, par H.P. Lovecraft
10) The Upper Berth, par F. Marion Crawford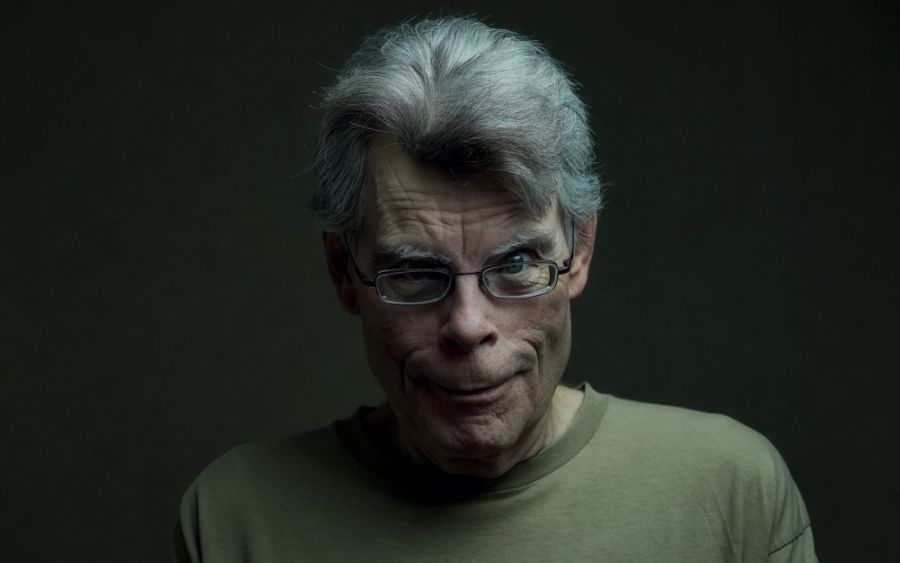 Les 10 romans fantastiques ou d'horreurs préférés de Stephen King, selon "How to Write Tales of Horror, Fantasy, and Science Fiction" (1987)
• Something wicked this way comes, par Ray Bradbury
• The dollar who ate his mother, par Ramsey Campbell
• The Body Snatchers, par Jack Finney
• The haunting of Hill House, par Shirley Jackson
• The ceremonies, par T.E.D Klein
• Burnt Offerings, par Robert Marasco,
• I am Legend, par Richard Matheson
• Interview with the Vampire, par Anne Rice
• Donovan's Brain, par Curt Siodmak
• Ghost Story, par Peter Straub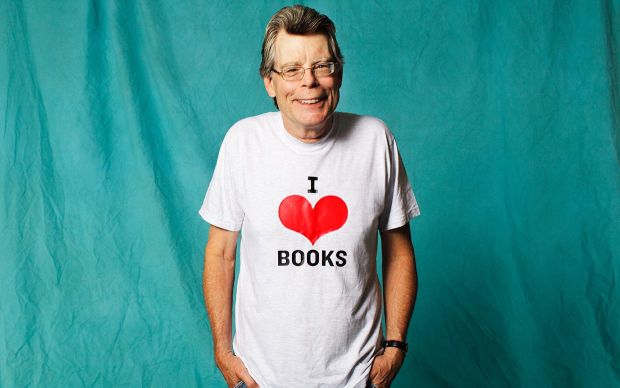 Ses autres lectures recommandées
Ci-dessous se trouve un listing d'une centaine de livres et recueils recommandés par Stephen King, classés par ordre alphabétique des auteurs. 
Les livres marqués par un astiérique (*) sont ceux que Stephen King considère comme les plus importants.
Richard Adams. The Plague Dogs; Watership Down*
Robert Aickman. Cold Hand in Mine; Painted Devils
Marcel Ayme. The Walker through Walls
Beryl Bainbridge. Harriet Said
J. G. Ballard. Concrete Island*; High Rise
Charles Beaumont. Hunger*; The Magic Man
Robert Bloch. Pleasant Dreams*; Psycho*
Ray Bradbury. Dandelion Wine; Something Wicked This Way Comes*; The October Country
Joseph Payne Brennan. The Shapes of Midnight*
Frederic Brown. Nightmares and Geezenstacks*
Edward Bryant. Among the Dead
Janet Caird. The Loch
Ramsey Campbell. Demons By Daylight; The Doll Who Ate His Mother*; The Parasite*
Suzy McKee Charnas. The Vampire Tapestry
Julio Cortazar. The End of the Game and Other Stories
Harry Crews. A Feast of Snakes
Roald Dahl. Kiss Kiss*; Someone Like You*
Les Daniels. The Black Castle
Stephen R. Donaldson. The Thomas Covenant Trilogy (3 vols.)*
Daphne Du Maurier. Don't Look Now
Harlan Ellison. Deathbird Stories*; Strange Wine*
John Farris. All Heads Turn When the Hunt Goes By
Charles G. Finney. The Ghosts of Manacle
Jack Finney. The Body Snatchers*; I Love Galesburg in the Springtime; The Third Level*; Time and Again*
William Golding. Lord of the Flies*
Edward Gorey. Amphigorey; Amphigorey Too
Charles L. Grant. The Hour of the Oxrun Dead; The Sound of Midnight*
Davis Grubb. Twelve Tales of Horror*
William H. Hallahan. The Keeper of the Children; The Search for Joseph Tully
James Herbert. The Fog; The Spear*; The Survivor
William Hjortsberg. Falling Angel*
Shirley Jackson. The Haunting of Hill House*; The Lottery and Others*; The Sundial
Gerald Kersh. Men Without Bones*
Russell Kirk. The Princess of All Lands
Nigel Kneale. Tomato Caine
William Kotzwinkle. Dr. Rat*
Jerry Kozinski. The Painted Bird*
Fritz Leiber. Our Lady of Darkness*
Ursula LeGuin. The Lathe of Heaven*; Orsinian Tales
Ira Levin. Rosemary's Baby*; The Stepford Wives
John D. MacDonald. The Girl, the Gold Watch, and Everything
Bernard Malamud. The Magic Barrel*; The Natural
Robert Marasco. Burnt Offerings*
Gabriel Maria Marquez. One Hundred Years of Solitude
Richard Matheson. Hell House; I Am Legend*; Shock II; The Shrinking Man*; A Stir of Echoes
Michael McDowell. The Amulet*; Cold Moon Over Babylon*
Ian McEwen. The Cement Garden
John Metcalf. The Feasting Dead
Iris Murdoch. The Unicorn
Joyce Carol Oates. Nightside*
Flannery O'Connor. A Good Man Is Hard to Find*
Mervyn Peake. The Gormenghast Trilogy (3 volumes)
Thomas Pynchon. V.*
Edogawa Rampo. Tales of Mystery and Imagination
Jean Ray. Ghouls in My Grave
Anne Rice. Interview with the Vampire
Philip Roth. The Breast
Ray Russell. Sardonicus*
Joan Samson. The Auctioneer*
William Sansom. The Collected Stories of William Sansom
Sarban. Ringstones; The Sound of His Horn*
Anne Rivers Siddons. The House Next Door*
Isaac Bashevis Singer. The Seance and Other Stories*
Martin Cruz Smith. Nightwing
Peter Straub. Ghost Story*; If You Could See Me Now; Julia; Shadowland*
Theodore Sturgeon. Caviar; The Dreaming jewels; Some of Your Blood*
Thomas Tessier. The Nightwalker
Paul Theroux. The Black House
Thomas Tryon. The Other*
Les Whitten. Progeny of the Adder*
Thomas Williams. Tsuga's Children*
Gahan Wilson. I Paint What I See
T. M. Wright. Strange Seed*
John Wyndham. The Chrysalids; The Day of the Triffids*
La liste ci-dessus a été publiée en 1981 dans le livre "Anatomie de l'horreur" de Stephen King
Ce listing datant quelque peu, Stephen King a proposé une autre liste de ses livres préférés. Celui-ci provient du livre "Ecriture – mémoire d'un métier", publié en 2000 en version originale, et se focalise sur les 3-4 années avant la publication de ces livres.
Dans son commentaire, Stephen King déclare suspecter que chacun de ces livres a influencé les livres qu'il a écrit. Et bien entendu, ces livres ont résonné pour lui, ce qui ne sera peut-être pas le cas avec vous. 
Abrahams, Peter: A Perfect Crime
Abrahams, Peter: Lights Out
Abrahams, Peter: Pressure Drop
Abrahams, Peter: Revolution #9
Agee, James: A Death in the Family
Bakis, Kirsten: Lives of the Monster Dogs
Barker, Pat: Regeneration
Barker, Pat: The Eye in the Door
Barker, Pat: The Ghost Road
Bausch, Richard: In the Night Season
Blauner, Peter: The Intruder
Bowles, Paul: The Sheltering Sky
Boyle, T. Coraghessan: The Tortilla Curtain
Bryson, Bill: A Walk in the Woods
Buckley, Christopher: Thank You for Smoking
Carver, Raymond: Where I'm Calling From
Chabon, Michael: Werewolves in Their Youth
Chorlton, Windsor: Latitude Zero
Connelly, Michael: The Poet
Conrad, Joseph: Heart of Darkness
Constantine, K. C.: Family Values
DeLillo, Don: Underworld
DeMille, Nelson: Cathedral
DeMille, Nelson: The Gold Coast
Dickens, Charles: Oliver Twist
Dobyns, Stephen: Common Carnage
Dobyns, Stephen: The Church of Dead Girls
Doyle, Roddy: The Woman Who Walked into Doors
Elkin, Stanley: The Dick Gibson Show
Faulkner, William: As I Lay Dying
Garland, Alex: The Beach
George, Elizabeth: Deception on His Mind
Gerritsen, Tess: Gravity
Golding, William: Lord of the Flies
Gray, Muriel: Furnace
Greene, Graham: A Gun for Sale (aka This Gun for Hire)
Greene, Graham: Our Man in Havana
Halberstam, David: The Fifties
Hamill, Pete: Why Sinatra Matters
Harris, Thomas: Hannibal
Haruf, Kent: Plainsong
Hoeg, Peter: Smilla's Sense of Snow
Hunter, Stephen: Dirty White Boys
Ignatius, David: A Firing Offense
Irving, John: A Widow for One Year
Joyce, Graham: The Tooth Fairy
Judd, Alan: The Devil's Own Work
Kahn, Roger: Good Enough to Dream
Karr, Mary: The Liars' Club
Ketchum, Jack: Right to Life
King, Tabitha: Survivor
King, Tabitha: The Sky in the Water (unpublished)
Kingsolver, Barbara: The Poisonwood Bible
Krakauer, Jon: Into Thin Air
Lee, Harper: To Kill a Mockingbird
Lefkowitz, Bernard: Our Guys
Little, Bentley: The Ignored
Maclean, Norman: A River Runs Through It and Other Stories
Maugham, W. Somerset: The Moon and Sixpence
McCarthy, Cormac: Cities of the Plain
McCarthy, Cormac: The Crossing
McCourt, Frank: Angela's Ashes
McDermott, Alice: Charming Billy
McDevitt, Jack: Ancient Shores
McEwan, Ian: Enduring Love
McEwan, Ian: The Cement Garden
McMurtry, Larry: Dead Man's Walk
McMurtry, Larry, and Diana Ossana: Zeke and Ned
Miller, Walter M.: A Canticle for Leibowitz
Oates, Joyce Carol: Zombie
O'Brien, Tim: In the Lake of the Woods
O'Nan, Stewart: The Speed Queen
Ondaatje, Michael: The English Patient
Patterson, Richard North: No Safe Place
Price, Richard: Freedomland
Proulx, Annie: Close Range: Wyoming Stories
Proulx, Annie: The Shipping News
Quindlen, Anna: One True Thing
Rendell, Ruth: A Sight for Sore Eyes
Robinson, Frank M.: Waiting
Rowling, J. K.: Harry Potter and the Chamber of Secrets
Rowling, J. K.: Harry Potter and the Prisoner of Azakaban
Rowling, J. K.: Harry Potter and the Sorcerer's Stone
Russo, Richard: Mohawk
Schwartz, John Burnham: Reservation Road
Seth, Vikram: A Suitable Boy
Shaw, Irwin: The Young Lions
Slotkin, Richard: The Crater
Smith, Dinitia: The Illusionist
Spencer, Scott: Men in Black
Stegner, Wallace: Joe Hill
Tartt, Donna: The Secret History
Tyler, Anne: A Patchwork Planet
Vonnegut, Kurt: Hocus Pocus
Waugh, Evelyn: Brideshead Revisited
Westlake, Donald E.: The Ax
Enfin, voici les meilleures lectures de Stephen King entre 2001 et 2009. Cette liste provient de l'édition américaine anniversaire du livre "Ecritures, mémoires d'un métier" : 
 
Abrahams, Peter : End of Story
Abrahams, Peter : The Tutor
Adiga, Aravind : The White Tiger
Atkinson, Kate : One Good Turn
Arwood, Margarer : Oryx and Crake
Berlinski, Mischa : Fieldwork
Black, Benjamin [pseudo.] : Christine Falls
Blaune, Peter : The Last Good Day
Bolano, Roberto : 2666
Carr, David : The Night of the Gun
Casey, John : Spartina
Chabon, Michael : The Yiggish Policemen's Union
Child, Lee : The Jack Reacher novels, starting with Killing Floor
Connelly, Michael : The Narrows
Costello, Mark : Big If
Cunningham, Michael : The Hours
Daniclewski, Mark Z. : House of Leaves
Diaz, Junot : The brief wondrous life of Oscar Wao
Dooling, Richard : White Man's Grave
Downing, David : Zoo Station
Dubus, Andre : The garden of last days
Enger, Leif : Peace like a river
Exley, Frederick : A fan's notes
Ferris, Joshua : Then we came to the end
Franzen, Jonathan : Strong motion
Franzen, Jonathan : The corrections
Gaiman, Neil : American Gods
Gardiner, Meg : Crosscut
Gardiner, Meg : The dirty secret clubs
Gay, William: The Long Home
Goddard, Robert : Painting the Darkness
Gruen, Sara : Water for Elephants
Hall, Steven : the Raw Shark TextsHelptin, Mark : A solder oft he great war
Huston, Charlie : The Hank Thompson Trilogy
Johnson, Denos : Tree of smoke
Keillor, Garrison (ed.) : Good Poems
Kidd, Sue Monk : The Secret Life of Bees
Klosterman, Chuck : Fargo Rock City
Larsson, Stieg : The Girl with the Dragon Tatoo
Le Carré, John : Absolute FriendsLehane, Dennis : The Given Day
Leonard, Elmore : Up in Honey's Room
Lethem, Jonathan : The Fortress of Solitude
Lippman, Laura : What the dead Know
Little, Bentley : Dispatch
Malamud, Bernard : The Fixer
Martel, Yann : Life of Pi
McCarthy, Cormac : No Country for Old Men
McEwan, Ian : Atonement
Meek, James : The People's Act of Love
Niffenegger, Audrey : Her Fearful Symmetry
O'Brian, Patrick : The Aubrey/ Maturin novels
O'Nan, Stewart : The Good Wife
Oates, Joyce Carol : We were the Mulvaneys
Pelecanos, George : Hard Revolution
Pelecanos, George : The Turnaround
Perrotta, Tom : The Abstinence teacher
Picoult, Jodi : Nineteen Minutes
Pierre, DBC : Vernon God Little
Proulx, Annie : Fine Just the Way It Is
Robotham, Michael : Shatter
Roth, Philip : American Pastoral
Roth, Philip : The Plot Against America
Rushdie, Salman : Midnight's Children
Russo, Richard : Bridge of Sighs
Russo, Richard : Empire Falls
Simmons, Dan : Drood
Simmons, Dan : The Terror
Sittenfeld, Curtis : American Wife
Smith, Tom Rob : Child 44
Snyder, Scott : Voodoo Heart
Stephenson, Neal : Quicksilver
Tartt, Donna : The Little Friend
Tolstoy, Leo : War and Peace
Wambaugh, Joseph : Hollywood Station
Warren, Robert Penn : All the King's Men
Waters, Sarah : The Little Stranger
Winegardner, Mark : Crooked River Burning
Winegardner, Mark : The Godfather Returns
Wroblewski, David : The Story of Edgar Sawtelle
Yates, Richard : Revolutionary Road
---